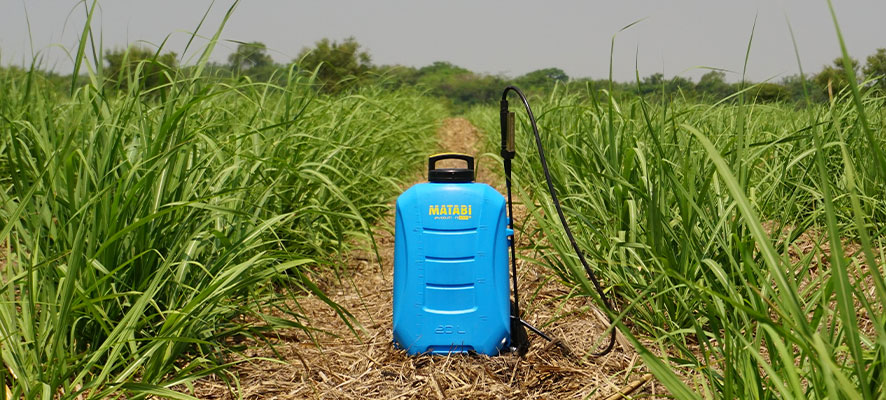 Following our strategy of innovation and continuous improvement, the MATABI R&D team has developed a new sprayer for the Electric sprayers family.
The need of farmers to spray extensive crops and large agricultural areas has been a challenge for the development of this new spraying equipment, which is presented with a larger capacity tank and adding functionalities that facilitate the work of the most professional farmers.
New sprayer for extensive crops
Evolution 20 LTCs, has a capacity of 20 liters, it is electric and ideal for carrying out applications in extensive crops such as coffee, sugar cane, vegetables, etc.
It is specially equipped with a high-performance diaphragm pump that allows applications with high-flow nozzles (from 0.8 l / min to 3.2 l / min).
A homogeneous spray throughout the treatment is possible thanks to its simple electronic control system (LTC) that will also allow you to select the most suitable working mode, depending on the application you are going to carry out: insecticide-fungicide or herbicide.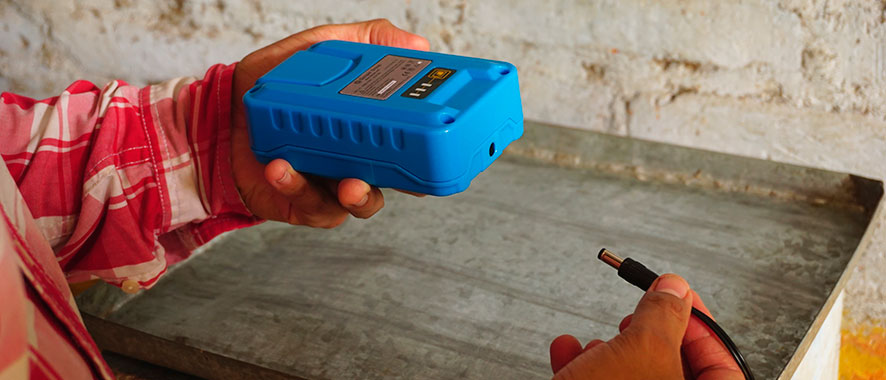 The equipment comes with a 18V Li-Ion battery, with a level indicator, protected and easily accessible, with which you can spray from 100 to 400 liters when the battery is fully charged.
Get to know all its extras
The sprayer comes with a box of 2 insecticide treatment nozzles and 2 herbicide treatment nozzles in order to increase the effectiveness of the treatments.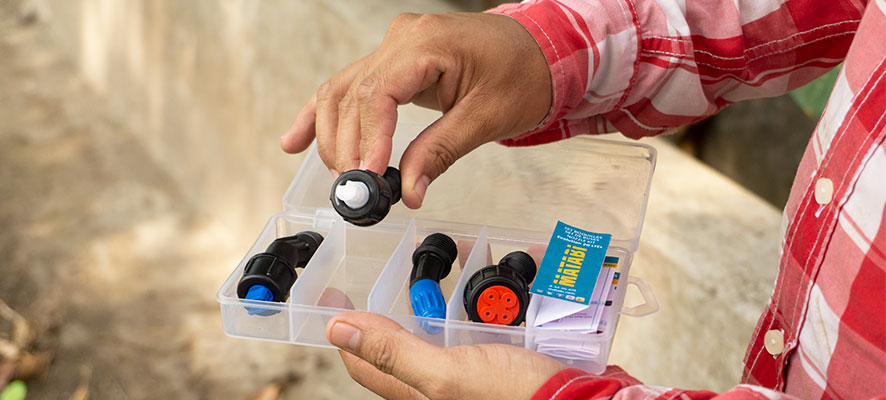 Each treatment has its specific requirements and that is why at MATABI we inform you about the ideal nozzle for the treatment you are going to perform and thus obtain the best results. In addition, with the use of the appropriate nozzle you will reduce the drift in herbicide treatments, you will obtain a very fine droplet size in your insecticide or fungicide treatments and most importantly, you will save on product and water.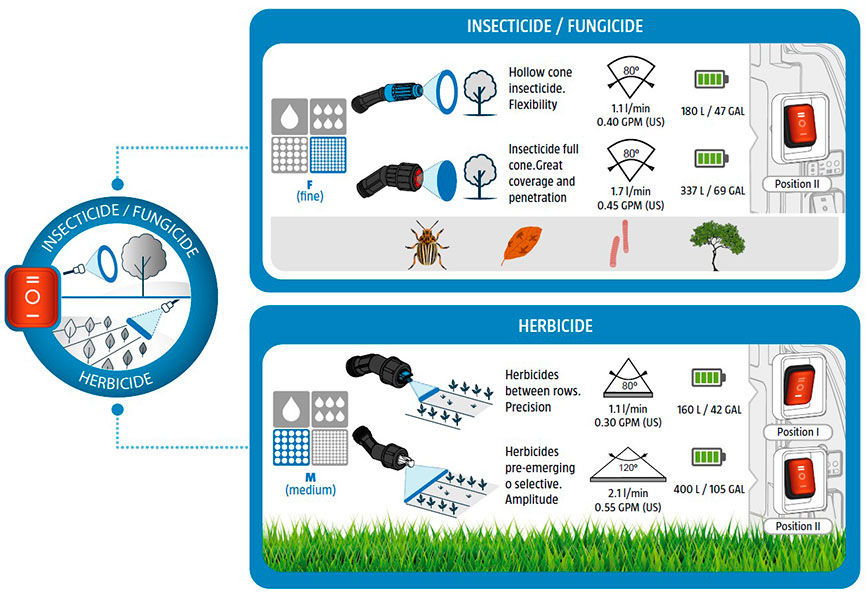 Make your work easier with the Matabi accessories
Thanks to the 6 meter long hose, you can place your Evolution 20 LTCs in the area you're going to be working on and move freely within a 6 meter radius. It is characterized by its easy assembly as it is reversible, without clamps and without strangulation. It is resistant to chemicals, as well as suitable for treatments of natural origin.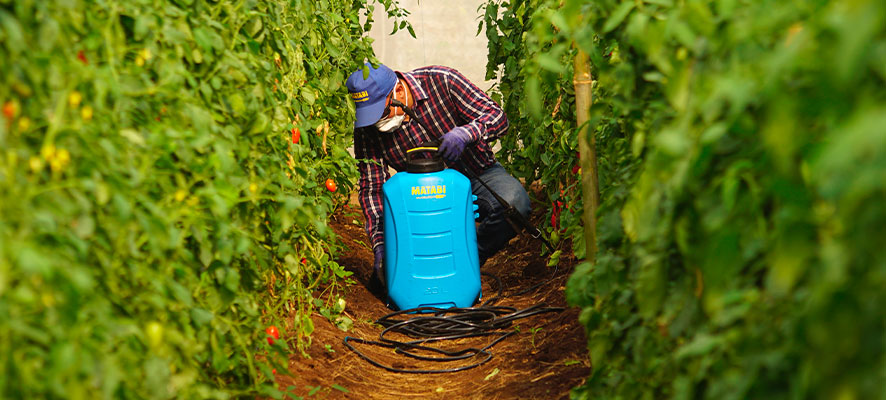 If you have a lot of rows to work with, get yourself a quadruple boom. In a single pass, you will work several rows at the same time, saving time and effort.
Discover all the accessories and adapt your Evolution 20 LTCs to your needs.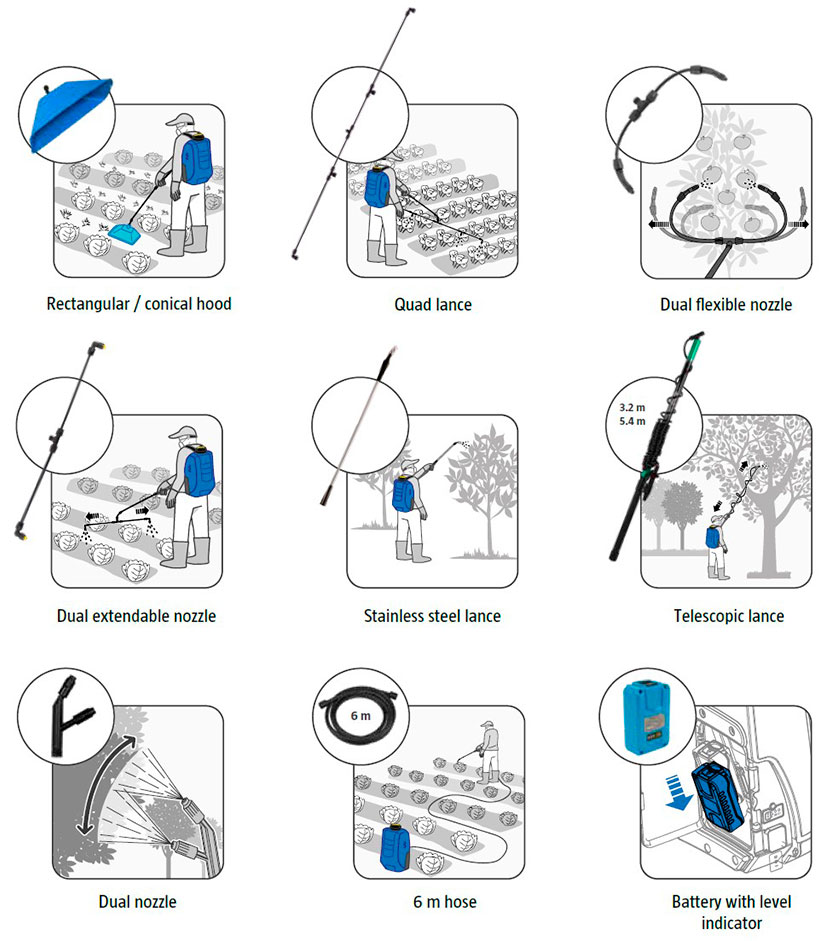 And remember! If you have any other doubt, please do not hesitate in contacting us.
---
Did you enjoy reading the article? Has it clarified any doubts for you? Give us your opinion and help us spread it on your social networks. We also invite you to follow us on Instagram.