EVOLUTION 20 LTC-S - Electric sprayer - Battery sprayers
The Matabi Evolution 20 LTCs electric sprayer is the largest capacity backpack sprayer within the Matabi electrical sprayer family. It has a 20-litre tank for use on extensive crops. The 18V Li-Ion battery has a level indicator so the user can always see how much usage time is left.
Advantages
Electric sprayer is fitted with a high-performance membrane pump and high-flow nozzles for extensive agricultural applications.
Electronic control (LTControl) ensures homogeneous spraying throughout the treatment without user effort.
Lightweight and ergonomic.
The control knob has 2 working positions: Fungicide/Insecticide and Herbicide.
The sprayer is supplied with a kit of four nozzles for various applications. They all guarantee a fine droplet size, greater fungicide and insecticide treatment coverage, and better herbicide treatment efficacy by reducing drift.
6 metre hose is available as an accessory, so you don't have to carry the backpack on your back, offering freedom of movement.
Sprayer suitable for products of natural origin such as pelargonic acid, nettle slurry or potassium soap, among others.
Functional information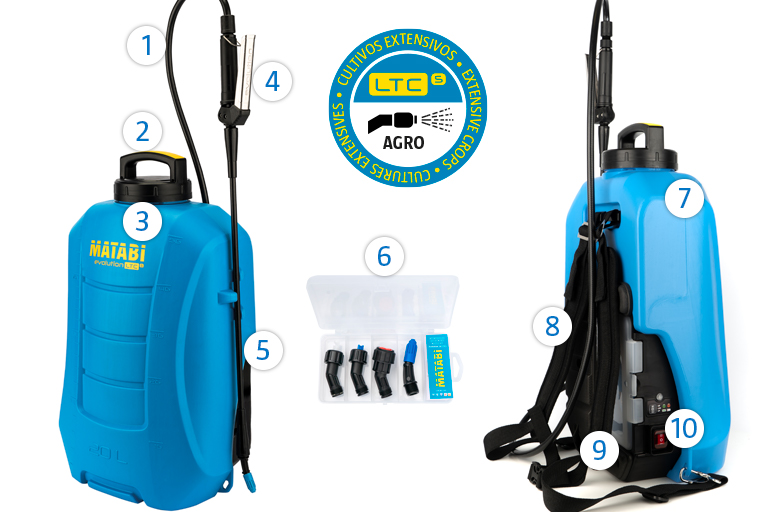 Reinforced hose
Integrated and ergonomic handle
Wide filler opening
Stainless steel handle
Fibreglass lance
Set of nozzles
High performance membrane pump
Padded and adjustable straps with zipper
Li-ion battery (18V)
2 working positions
Technical information
| | |
| --- | --- |
| Valve | NO |
| Hose | Reinforced PVC |
| Standard nozzles | Adjustable conical nozzle, fan, mirror and four holes nozzles |
| Lance | Fibreglass |
| Useful capacity | 20 L |
| Total capacity | 21 L |
| Net weight | 4,3 kg |
| Wide filler opening | YES |
| Set of nozzles for herbicide and insecticide treatments | YES |
| Lance and extensions | Lance |
| Straps | Padded and adjustable. Adjustable in the breast strap |
| Pressure control | YES |
| Battery | 18V Li-Ion |
| Working positions | 2 (Herbicide/Insecticide) |
| Autonomy | 100-400 L |
| Handle | Stainless steel |