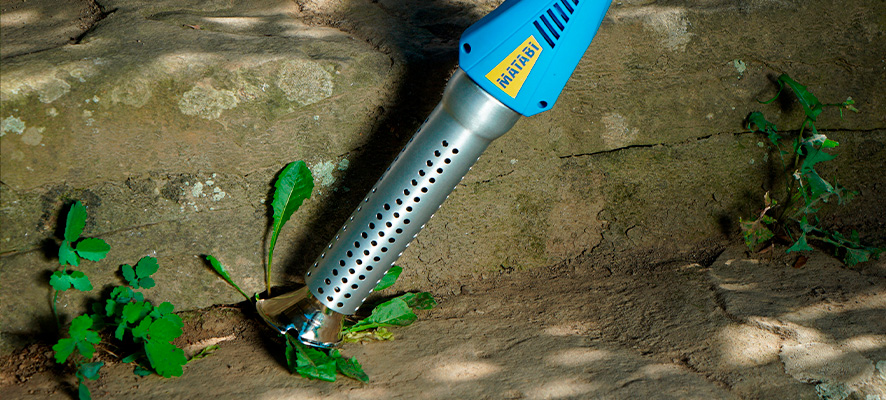 Electric Weeder Matabi is an electric weed burner that has transformed how weeds and undergrowth are eliminated in gardens, orchards and other green spaces. It is an environmentally friendly and safe tool that uses electricity to effectively generate heat and burn weeds. Each application takes 5 seconds, reaching a maximum temperature of up to 650 degrees and penetrating the root of the weeds until they are completely eliminated.
When it comes to eliminating weeds in the garden and orchard, many gardening enthusiasts turn to homemade alternatives such as using salt or vinegar as herbicides. But just because they are of natural origin does not mean they are safe for the environment, as their application influences soil fertility. Local weed burning avoids affecting the soil's fertility.
One of the most outstanding features of the Electric Weeder is its ergonomic and lightweight design, making it easy to handle and transport. Equipped with a telescopic lance to easily reach all application areas - maximum length 115 cm - and a 2-metre extension cable to reach even further. Thanks to its diffuser cone, the treatment is targeted and precise, for example, between tiles, protecting the rest of the surrounding plants. Most importantly, it eliminates weeds without herbicides.

Eliminate weeds in a natural way
However, the benefits of the Electric Weeder Matabi go far beyond its design and technical features.
It is an environmentally friendly alternative to chemical herbicides, which are potentially harmful to health and the environment. It is applied without flames or gas.
It is safe and easy to use. It is activated by a push button. When released, it automatically switches off.
It has a double purpose. It can also be used to ignite barbecues and fireplaces.
In short, Electric Weeder Matabi is an effective and versatile tool for eliminating weeds and undergrowth in gardens and orchards. Its ergonomic, ambidextrous grip design, easy-to-use and environmentally conscious features make it an excellent choice for those looking for a safe and environmentally friendly alternative to chemicals.
Check out the technical features of the Electric Weeder here.
---
What did you think about the article? Has it solved any of your doubts? Please share your opinion and help us spread it on your social media. If you want to follow us, please click here to see other social media channels: Instagram, Facebook and Youtube.