The Matabi Evolution 10 LT electric sprayer is powered by a Li-ion battery with a power output of 12 watts. It has a spray capacity of 10 litres and is lightweight and robust. The Evolution 10 LT is the most compact electric backpack sprayer, ideal for small to medium-sized gardens and orchards.
Advantages
A very easy-to-use sprayer, triggered with a single click, requires no manual pumping.
Battery charging time is four hours.
The battery is protected on the back of the backpack with an easy opening.
Battery-powered sprayer suitable for use with products of natural origin such as pelargonic acid, acetic acid and others.
It comes with a wide range of accessories, including a 6-metre hose that allows you to move freely around your garden without needing to carry your backpack.
Functional information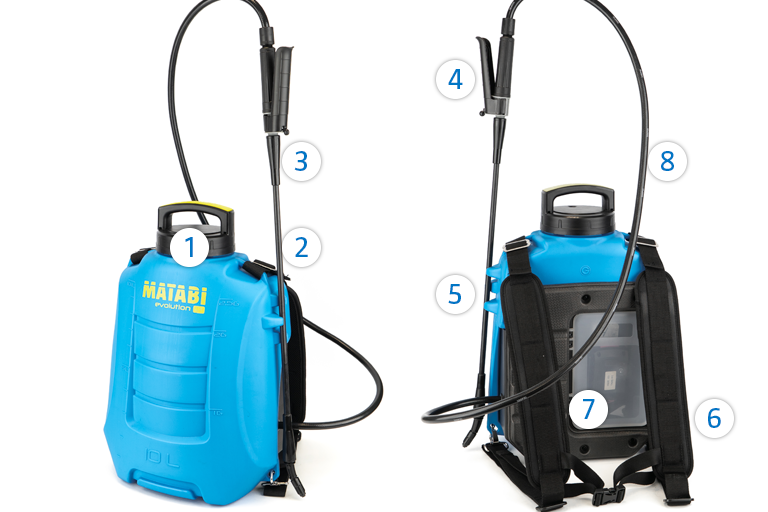 Integrated and ergonomic transport handle with large filling opening
Fibreglass lance
Ergonomic and robust clamping nut
Low-effort ergonomic handle
Lance fasteners for easy transport
Padded and adjustable straps with zipper
Lithium battery (12V)
Reinforced hose
Technical information
| | |
| --- | --- |
| Valve | NO |
| Hose | Reinforced PVC |
| Standard nozzles | Adjustable conical nozzle and fan |
| Lance | Fibreglass |
| Useful capacity | 10 L |
| Total capacity | 10 L |
| Net weight | 3,6 Kg |
| Wide filler opening | YES |
| Set of nozzles for herbicide and insecticide treatments | YES |
| Lance and extensions | Lance |
| Straps | Padded and adjustable. Adjustable in the breast strap |
| Battery | 12V Li-Ion |
| Working positions | 1 |
| Autonomy | 100-150 L |
| Handle | PP |