Compression sprayer with 6 litre useful capacity and an integrated design that facilitates the filling and pressurisation functions of the tank. Sprayer suitable for use in large gardens.
Advantages
A pressure regulator is included to ensure a homogenous application.
It includes an extension to increase the spraying range.
Stable base which allows to hold the sprayer during the pressurization process.
Complete use of the liquid thanks to the lower hose connection.
Additional nozzle set.
Suitable for application of products of natural origin (pelargonic, acetic, etc…).
Functional information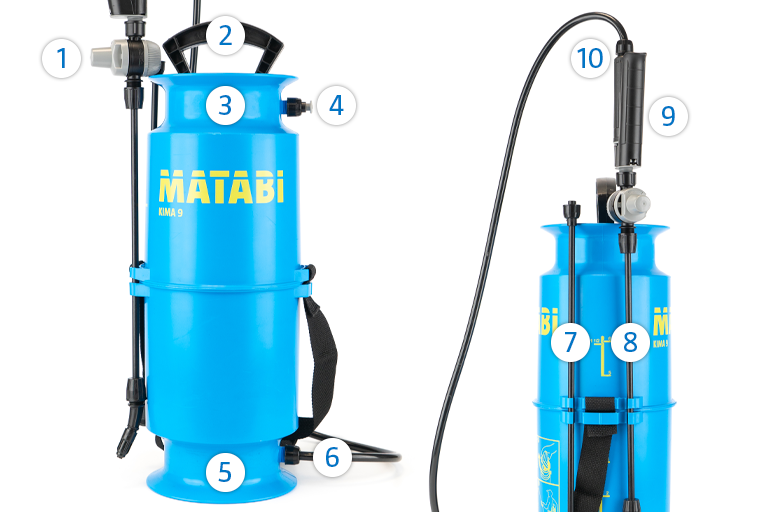 2-position pressure regulator
Ergonomic transport handle
Large funnel-shaped filling opening
Safety valve set at 4 bar
Adapted tank base to hold with the feet in the pressurisation process
Hose connections to the lance and to the tank by thread without clamps or fittings
0.42m extension
Fibreglass lance
Low-effort ergonomic handle
Hose connections to the lance and to the tank by thread without clamps or fittings
Technical information
| | |
| --- | --- |
| Valve | YES |
| Hose | 1,3m PVC |
| Standard nozzles | Adjustable conical |
| Lance | Fibreglass |
| Useful capacity | 6 L |
| Total capacity | 9 L |
| Litres/Min. 1,5 bar | 0,43 l/m |
| Litres/Min. 3 bar | 0,6 l/m |
| Net weight | 1,75 Kg |
| Wide filler opening | YES |
| Set of nozzles for herbicide and insecticide treatments | YES |
| Standard accessories | Pressure regulator, set of nozzles and 0.42 m extension  |
| Lance and extensions | Lance |
| Straps | Adjustable |
| Pressure regulator | YES |