FOREST FIRE EXTINGUISHER 17 L
The Matabi back forest fire extinguisher has a capacity of 17 litres. It is suitable for assisting in extinguishing fires, used in situations of
Direct response in areas of weak and/or emerging fire.
Indirect response in operations such as defence line support, controlled burns, fire breaks, secondary fire control and stand-off operations.
It includes a long-range lance (8-12m) to guarantee the safety perimeter between the user and the area to be treated. Easy and comfortable to use thanks to its padded straps and adjustable belt.
Ventajas
Highly resistant tank against extreme temperatures.
Achieves a powerful and far-reaching stream thanks to its double-acting lance.
Includes padded lumbar support for greater ergonomics.
Avoids hose tangling thanks to its anti-twist system.
Airtight cap with an improved valve to reduce the risk of liquid leakage and spillage.
Functional information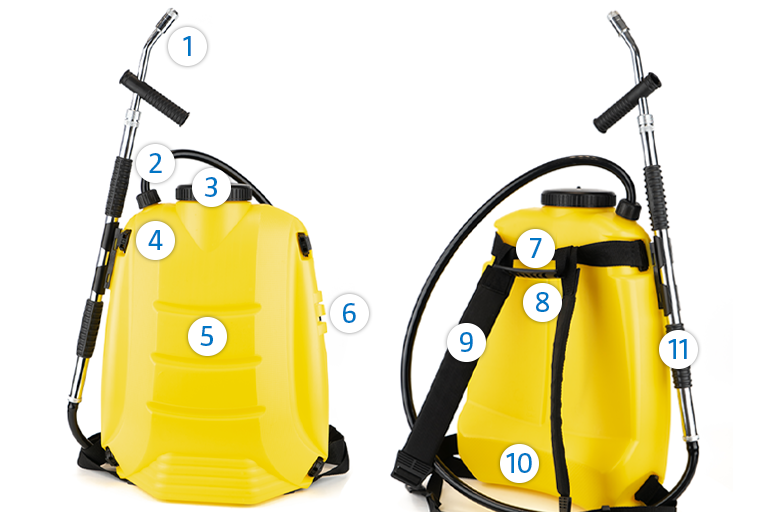 Nozzle specially designed to optimise the stream and scope of the spray
Simple assembly system for easy cleaning and maintenance
Stopper with hermetic seal and pressure release valve
Lance fastening
Ergonomic and translucent tank
Hose fastening for transport
Integrated handle
Sight glass
Padded, adjustable straps with waist fastening
Lumbar support, greater comfort
Double-acting pump body to optimise effort
Technical information
| | |
| --- | --- |
| Hose | 1,75m (PVC) |
| Standard nozzles | Adjustable brass conical nozzle |
| Lance | Chromed-plated brass lance with dual effect hydronette system |
| Useful capacity | 17 L |
| Total capacity | 17,5 L |
| Gross weight | 3,84 Kg |
| Net weight | 3,35 Kg |
| Wide filler opening | YES |
| TRANSLUCENT level indicator | YES |
| Lance and extensions | Lance/Hose |
| Straps | Padded and adjustable, with waist support |
| Vertical stream range | 7m |
| Horizontal stream range | 12m |
| Horizontal spray range | 4m |