Compression sprayer with 5 litre useful capacity, with an innovative design and an ergonomic pressure system. Sprayer suitable for use in medium gardens.
Advantages
The large size of the separate filling opening allows a complete, fast and save filling and emptying.
Translucent tank to see the liquid level.
Cover with integrated dispenser (4 levels).
Safety valve integrated in the cover for an easy decompression.
Easy placement of the lance for storage and transportation.
Suitable for application of products of natural origin (pelargonic, acetic, etc…).
Functional information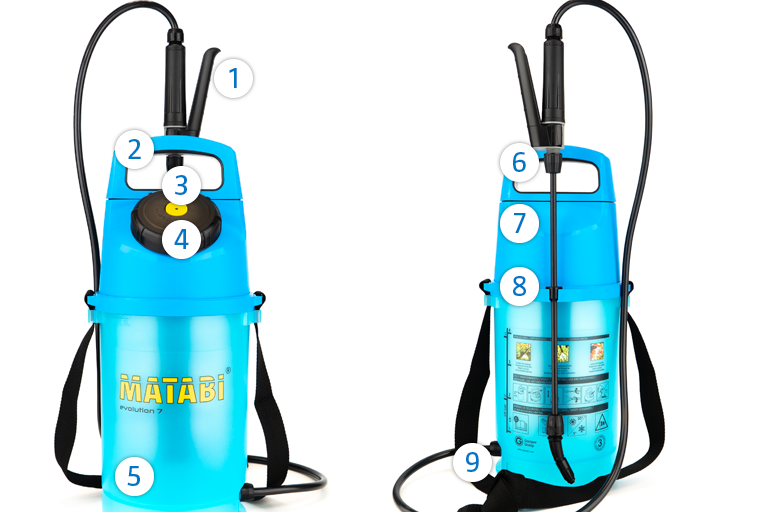 Low-effort ergonomic handle
Ergonomic handle for transport and pressurisation
Depressurisation valve integrated into the cover
2/5/10/15 ml dispenser integrated into the stopper
Translucent tank to view the liquid level
Hose connections to the lance and to the tank by thread without clamps or fittings
Fibreglass lance
Easy-to-assemble lance clamping system
Adjustable strap
Technical information
| | |
| --- | --- |
| Valve | YES |
| Hose | 1,3m PVC |
| Standard nozzles | Adjustable conical |
| Lance | Fibreglass |
| Useful capacity | 5 L |
| Total capacity | 7 L |
| Litres/Min. 1,5 bar | 0,43 l/m |
| Litres/Min. 3 bar | 0,60 l/m |
| Net weight | 1,48 Kg |
| Wide filler opening | YES |
| TRANSLUCENT level indicator | YES |
| Standard accessories | NO |
| Lance and extensions | Lance |
| Straps | Adjustable |
| Pressure regulator | NO |