Compression sprayer with 5 litre useful capacity specifically designed and equipped for the removal of weeds and undergrowth from the garden, focused application on trails and between tiles. It is also a great weeding tool for professional gardeners and roof weeding. Sprayer suitable for use in medium gardens.
Advantages
Specific equipment for weed removal applications with drift protection.
Safe and no overpressure risk thanks to the safety valve.
The handle makes filling and transportation easy.
Translucent tank to see the liquid level.
Complete use of the liquid thanks to the lower hose connection.
Suitable for application of products of natural origin (pelargonic, acetic, etc…).
Functional information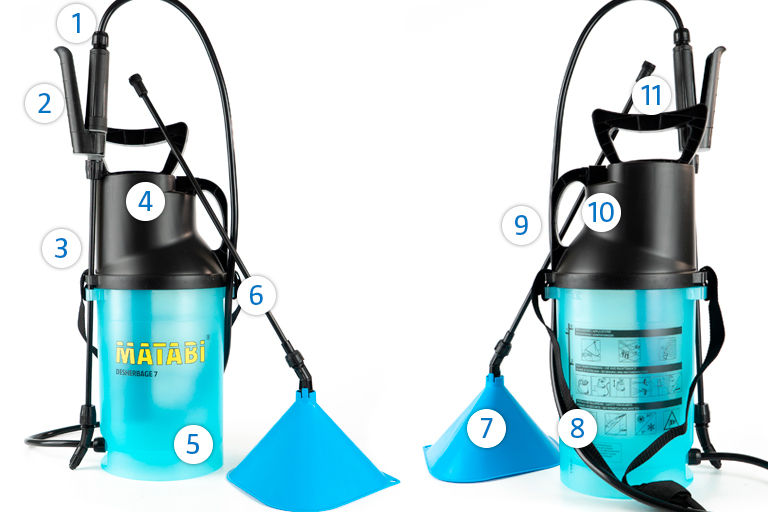 Hose connections to the lance and to the tank by thread without clamps or fittings
Low-effort ergonomic handle
Fibreglass lance
Large filling opening
Translucent tank to view the liquid level
42 cm extendable lance to reach remote areas or areas of difficult access
Conical bell for precise and localised application of the treatment, avoiding drift
Wide, sturdy and adjustable shoulder strap
Transport handle
Safety valve. Automatic release of excess pressure
Operation handle. Easy to use
Technical information
| | |
| --- | --- |
| Valve | YES |
| Hose | 1,3m PVC |
| Standard nozzles | Adjustable conical |
| Lance | Fibreglass |
| Useful capacity | 5 L |
| Total capacity | 7 L |
| Litres/Min. 1,5 bar | 0,43 l/m |
| Litres/Min. 3 bar | 0,60 l/m |
| Gross weight | 1,73 Kg |
| Net weight | 1,31 Kg |
| Wide filler opening | YES |
| Standard accessories | 0.42 m extension and conical hood with fan nozzle |
| Lance and extensions | Lance |
| Straps | Adjustable |
| Pressure regulator | NO |